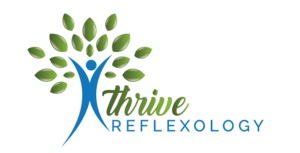 Reflexology is a gentle massage to the feet or hands. Using the feet as an example, starting at the toes each treatment works by accessing different reflexes in your body. Each treatment will treat the body as a whole and they are very relaxing. The appeal of Reflexology is is can offer benefit to anyone of any age helping many concerns to might have.

Reflexology may help with:

- Stress and Anxiety

- Insomnia

- Fertility Issues

- Pre and Post Pregnancy

- Headaches (including Migraines)

What Benefits can be Expected?
Deep relaxation during your treatment and a better nights sleep as a start. With the time to stop, relax and allow your body to re-balance these offer plenty of benefits. Many of my clients fall asleep during treatments. I love the glow people have when the wake up at the end of a Reflexology treatments.